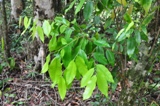 Walla patta is a medium-tall tree which grows up to 15 m in height with straight, slender trunk and with a small, rounded or umbel crown. It has a thin, brownish-grey smooth and strongly fibrous bark. Due this fibrous nature, its bark was used as a binding material by the villagers in the past. Twigs are slender and wiry, rather shining and chestnut-brown in colour when young. Leaves are oblong and 3.0-9.0 cm x 1.2-5.0 cm with a short, rather abrupt, bluntish acumen up to 1 cm long. Petiole is short and 1-6 mm in length. Inflorescence is terminal or few flowered with umbel-like heads. Pedicels are 3-4 mm and thinly pilose. Flowers are yellowish-white and the size of the calyx tube is 4-10 mm which is narrow.
There are known eight species of Gyrinops present in the world and agarwood production had been recorded from Gyrinops ledermanii and G. versteegii which are growing in Indonesia. Until recent, Gyrinops walla (Walla patta) did not posses any commercial value and therefore villagers did not want to keep this tree in their homegardens. However, after mid-2012, it suddenly became famous due to smuggling attempts made by both local and foreign personnel in large scale. The reason of smuggling was due to the presence of agarwood resins of Walla patta trees which formed due to natural reasons. Dr. Upul Subasinghe of Department of Forestry and Environmental Science, University of Sri Jayewardenepura and his team pioneered to identify the evidences for the first time in producing Agarwood in Walla patta. Their preliminary studies have proven that the quality of Agarwood produced by Walla pattais strongly similar to that are available in the market produced by Aquilaria species. Now his team is further studying in identification of unique chemicals inherited to Walla patta and artificial resin induction methods.
The agarwood producing species to the world market in major level, Aquilaria has faced a severe threat due to illegal harvesting from the wild. Therefore finding wild-grown Aquilaria is very difficult in Southeast Asia and therefore the demand has now turned to the naturally formed resins of Walla patta. Irrespective of the species, i.e., Aquilaria, Gyrinops, Aetoxylon and Gonystylus, the presence of agarwood formed due to natural reasons is found in very small percentage of trees and this is also the case for Walla patta.
High international demand for agarwood is increasing and over the past decade it has resulted in over-exploitation. Poaching increases tree mortality, reduces the growth rate of pre-adults and adults, and decreases the percentage of adults that reproduce. Loss of lowland forest habitats also threatens populations of these species. Agarwood producing species are becoming more difficult to find, as reported by collectors, non-infected trees are increasingly being felled and collection is taking place within protected areas. This over-use of agarwood producing species has therefore seriously affected the natural resources of all suchspecies capable of producing agarwood, thus making these endangered species listed in Appendix II of the Convention on Internal Trade in Endangered Species of Wild Fauna and Flora (CITES).
Due to the findings of Dr. Subasinghe and his team and the present rate of illegal harvesting, if a proper action is not taken by the government, the same fate of Aquilaria can be resultant to the Walla patta trees causing the extinction. There are numerous methods available in the agarwood producing countries to artificially form this resin. These methods vary from traditional ones to very modern methods. Therefore researches on unique methods of Agarwood formation in Walla patta should also be conducted. At the same time, it is essential to establish a proper mechanism to grow walla patta in homegardens and as plantations so that a new industry can be developed in line with the "green economy" concept which can significantly contribute to the poverty alleviation. 
Dr. Upul Subasinghe
Senior Lecturer, Department of Forestry and Environmental Science
University of Sri Jayewardenepura, Nugegoda, Sri Lanka
Tel: 011 2804685, Email: This email address is being protected from spambots. You need JavaScript enabled to view it.