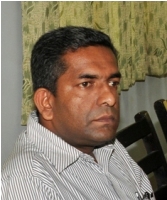 Mr. M.G.C.Sooriyabandara
Director (Protected Area Management)
Planning & Information Technology Division


Mr.Ranjan Marasinghe
Deputy Director (Planning & Information Communication Technology)
 
Main Activities and Responsibilities
Preparation of annual action plan for the DWC.
Preparation of Project Proposals for special development and conservation activities.
Monitoring the implementation progress of annual action plan.
Preparation of progress reports monthly, quarterly and annually.
 Preparation of annual performance report.
Updating and administration of DWC web site;  www.dwc.gov.lk
 Monitoring, upgrading and maintenance of island wide radio communication system of the DWC.
 Monitoring, upgrading and maintenance of PABX.
 Administration and maintenance of Wide Area Network (WAN) of DWC.
 Automation of National Parks.
 Administration of GIS unit.
 
Natural Resource Management Division
 
Mr.Manjula Amararathne
Director ( Operations and Nature Resource Management)
 
Main Activities and Responsibilities 
 Preparation and revision of Management Plans for protected area.
Preparation and revision of resource inventories for protected areas.
Reviewing the PA Network and carrying out PA declarations.
Survey and demarcation of PA boundaries.
Review, monitoring and formulation of policy for wildlife habitat management; water resources and grassland management.
Implementation of Invasive species control activities.
Management of fire belts.
Coordination and supervision of pollution control and species recovery plans.
Conducting EIA for development activities proposed in PAs
Participating EIA process of development projects of the country.
Working as administrative authority of Ramsar convention in Sri Lanka.
 
Protection and Law Enforcement Division
Mr. S.P.A.G.V. Samarakoon
Assistant Director (Law Enforcement) 
Main Activities and Responsibilities
Implementation of the Fauna and Flora Protection Ordinance (FFPO)
Declaration of Protected Areas (PAs)
Preparation of regulations and amendments for FFPO
Consultation to field staff on enforcement of FFPO
 
Elephant Conservation Division 
 
 
Mr. U.L. Thaufeeq
Deputy Director ( Elephant Conservation)
 
Main Activities and Responsibilities
Implementation of national elephant conservation policy.
Maintaining and updating a database on elephant related data and information.
Establishment of elephant conservation areas including elephant corridors.
Payments of compensation for damages due to HEC.
Construction and management of physical barriers against elephant movements in settlements such as power fences, live fences and other innovative solutions.
Capture and translocation of elephants.
Organizing elephant drives and monitoring the progress.
 
Research & Training Division
Dr.U.K.L.Peiris
Assistant Director(Research & Training)
 
Main Activities and Responsibilities
Preparation of research and training plans and associated budgets for the DWC.
Form and maintain the research committee.
Administration and development of DWC library.
Organizing and conducting training programmes.
Supervision of NWTRC.
 
 
Visitor Services, Ecotourism & Community Outrich Division
Mrs. Chandhani Wilson
Deputy Director(Visitor Services Management)

Main Activities and Responsibilities
 
Preparation of visitor services plans and budgets.
Preparation of visitor centre exhibits and display materials.
Introduction of new tourist packages.
Diversification of tourist activities.
Promotion and marketing of VSE activities.
Establishment of information centers both in and outside PAs.
To obtain proactive involvement of communities in the conservation process, through community empowerment in order to reduce dependency on Protected Areas.
To create awareness of conservation among the general public by conducting educational & extension programs. 
 
Wildlife Health Management Division
Dr.G.A.Prasad
Director (Health)
 
Main Activities and Responsibilities
 
Health monitoring and disease investigation activities of wild animals.
Providing effective and rapid response Veterinary care for wild animals.
Conducting post mortems of wild animals.
Monitoring and enhancing the welfare of wild animals.
Management of wild animal-human conflicts.
Management of animal rehabilitation centers.
Management of Elephant Transit Home (ETH).
 
Engineering Division
Engineer Mr.S.M.M.Siriwardhana
Main Activities and Responsibilities
 
Implementation of construction and infrastructure development plans within PA's
Construction and maintenance of  buildings outside PA's
Construction and maintenance of PA's road network. 
 
Administration Division
Mr. G.P.N. Mahesh Abesekara 
Director (Administration)
Main Activities and Responsibilities
 
Preparation of Human Resource and General Administration Plans.
Recruitment of employees.
Transfers: annual, on disciplinary grounds and exigencies.
Service extensions, Retirement, Pensions and W&OP matters.
Disciplinary matters.
Payment of compensations.
Performance appraisal and Increments.
Construction and repairing of field buildings.
 
Finance Division
Mr. K.S.P. Perera
Director (Finance)

The Finance division of the Department of Wildlife Conservation coordinates all financial activities applicable to the DWC. The division coordinated the institutions of the Ministry of Finance such as Department of Public Finance, Department of State Accounts, Department of National Budget, Department of Fiscal Policy and Revenue, Department of Treasury Operations.
 
Main Activities and Responsibilities
 
Planning, implementing, controlling and accounting of annual revenue and expenditure budget of the department. 
Financial control over imprestedreceipts from treasury and various institutions.
Classification and submission of financial information to the general treasury, the ministry of environment and natural resources and to the other divisions of the department.
Submission of annual accounts, appropriation account, revenue account, public officers' advance account and the wildlife preservation fund account administrated by the DWC.